Filing Consumer Complaints
The Consumer Protection Act, 2019 was introduced on 7th August 2019 to provide protection to the interests of consumers. It aims at establishing authorities to address the grievances of the consumers and get solutions for consumer-related disputes.
The authorities are responsible to provide timely and effective redressals of consumer disputes. In the case of grievances, consumers can file a complaint in a prescribed format laid down under the Consumer Protection Act, 2019.
Section 2 of the Consumer Protection Act, 2019 defines a complaint as any written allegation made by a consumer to obtain relief under the Consumer Protection Act in the case of an unfair trade practice, unfair contract, defective products, restrictive trade practice, deficiency of services, poor quality or hazardous goods or service. A complaint may also include a written allegation to claim liability against the manufacturer of the product, seller or service provider.
Filing Consumer Complaints Registration Package
What we provide
Documents required
Certificate of Incorporation (CIN)
Permanent Account Number (PAN)
Memorandum of Association (eMOA)
Articles of Association (eAOA)
Director's Identification Number (DIN No)
Digital Signature (DSC)
GST Registration
Company 2 Name
Companies Object
Address Proof (Rent Agreement, Receipt, Electrical Bill, Owner Property tax)
Director's PAN, Aadhar, Voter Card
Director's Electrical Bill
Director's Driving Licence or Passport (If any)
Director's Last 6 months Bank statement
Director's Photo
Director's Email and Mobile
There is a hierarchy of forums to address consumer concerns, where a consumer complaint is filed based on the value of the transaction: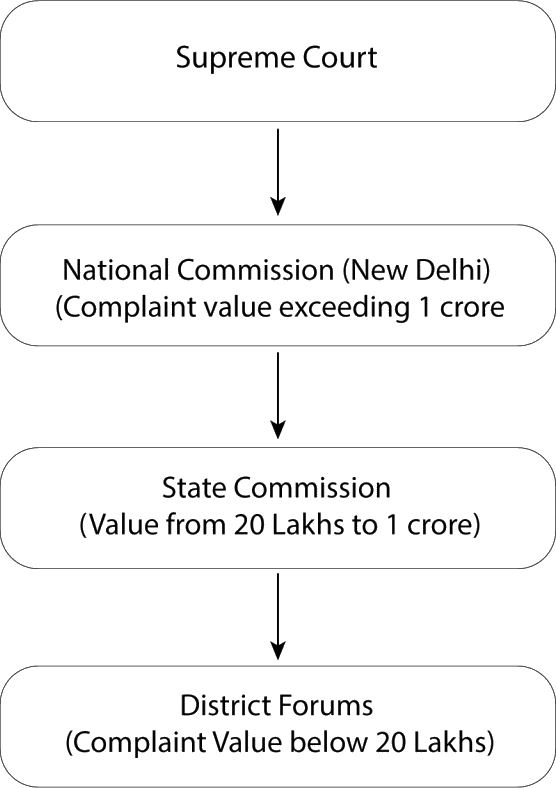 As per the Consumer Protection (twenty-second amendment) Rules, 2018, the fee structure for filing a consumer complaint has been updated as per the following:
1. Cases of value up to Rs. 5 Lakh- No fee applies
2. Cases of the value of Rs. 5 Lakh-10 Lakh- Rs 200
3. Cases of value exceeding Rs 10 Lakh- Rs 400
Given below is the online procedure for filing Consumer Complaints.
1. A consumer complaint can be filed both through offline as well as online mode. A consumer complaint can be lodged online by registering on the website of the national consumer helpline https://consumerhelpline.gov.in/. A complainant can register himself as a consumer by filling in the required details such as name, contact number, email address and a password.
2. After registration, the consumer can log in with the help of log-in credentials and passwords. Then, the consumer has to click on 'register your complaint' and enter the details regarding the complaint and upload the requisite documents. There are several grievance portals in different sectors.
3. Once the complainant registers himself as a consumer, he can also call on the National Consumer Helpline number 1800-11-4000 or 14404 to register his complaint or send a message on 8130009809.
4. A consumer can also register and file his grievance through the NCH app, Consumer app or the UMANG app.
5. The consumer will be provided with a unique id after registering the complaint. With the help of this unique id, the complainant can track the status of his complaint.
6. The required fee for the complaint can be paid through an online payment gateway.
Need Consultancy? Ask Tax Seva Kendra Expert@ Rs. FREE
Free Consultancy
Online Documentation
Anywhere In India